shoemaking powered by fairy dust & tea
Fairysteps make fairytale shoes and boots in a woodland workshop situated on the edge of Dartmoor. It's here that we make every part of the shoes and accessories, one careful step at a time, using top quality leathers, a trio of vintage sewing machines and 2 pairs of hands. Established in 2002 the workshop continues to thrive, despite the very obvious lack of Elves.
limited edition footwear
Ordering your own special pair of custom shoes is as easy as falling off a log. You simply choose a favourite, follow the instructions on the listing, make a note of your options in the shopping cart, complete checkout, and then start stalking the postman. A despatch notification will be sent at the time of posting ready for you to start hopping up and down in anticipation. Allow up to 8 weeks turnaround time from order date. If the custom shoe category is empty it will mean our order book is full. See updates below...

☆☆ Our order book is currently full, we re-open - 10th April ☆☆


In Stock, Shoes & Boots
We have all sorts of treasures all ready and waiting on the online shelves, including: shoes (limited selection), as well as bags, knitwear and smaller accessories. Boots are not available as custom made, but they are often added as stock items. They are my creative canvas for when inspiration strikes, so each pair is often one of a kind. Walking works of art...
Leathers
Our specially selected leathers are top quality, smooth and supple with a slightly antiqued pull up finish. They have natural scuffs and variations across the hide, enhancing their already unique natural beauty. Some are repeatable, many are 'limited editions'. Your shoes may well be a pair of one and only's... It's all part of what makes Fairysteps so special.
What does barefoot comfort mean?
We believe that your shoes should feel just like slippers, all day, every day, and our shoes do just that. With all leather interiors your new shoes will naturally give with wear, gradually moulding to your feet and offering glove like comfort.
We use a durable, highly flexible, cushioned, non slip soling made by the Italian company Vibram. There is no heel, just like Mother nature intended, with the soling offering a good level of bounciness and protection. When the time comes your shoes can be resoled by your local cobbler, thus extending the life of your beloveds and avoiding landfill sites.
Behind the scenes
The fairysteps studio is where I spend my days, snipping and stitching away, always with a cup of tea at my elbow. Being a 70's child I grew up with polaroids, so instagram is like childhood all over again. It is so quick I use it on a daily basis to share all my latest makes and snippets from home. Follow @MRSFAIRYSTEPS for studio shots & stock updates.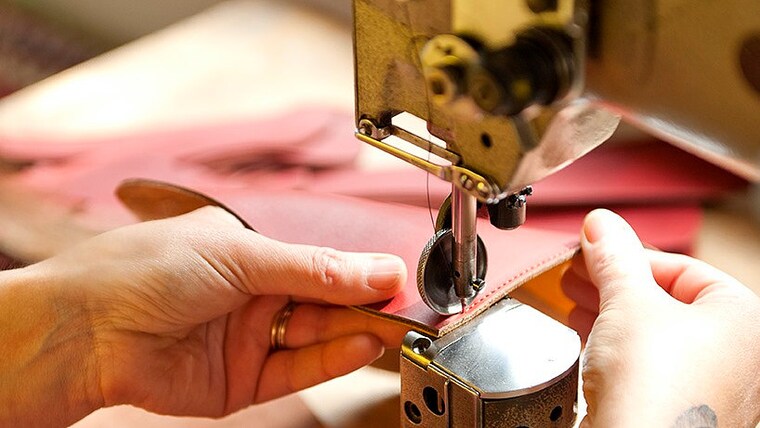 { no elves are exploited during the making of fairysteps products }